SSDI, Social Security Disability Insurance benefits offered to people with sufficient work credit but disabled.
The SSDI program is available for those who are disabled but want to meet the resource limits and income to become eligible. On the basis of such circumstances, you are eligible to avail of the SSDI benefits.
If you also want to claim SSDI benefits, you should read the complete article, including benefits, eligibility criteria, requirements, how to apply way, etc.
How to apply for the SSDI application?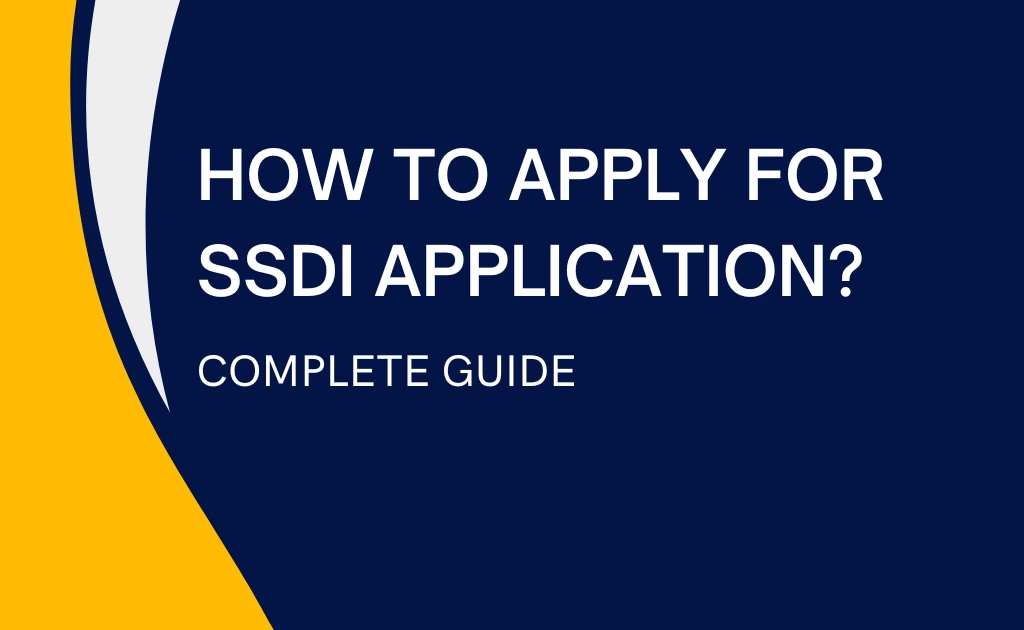 SSDI, Social Security Disability Insurance, is the largest federal program of the US government that assists people with disabilities.
There are two methods to apply for the SSDI application.
You can apply online for SSDI benefits at the official site.
You can also call at the toll-free number, 1-800-772-1213
The application procedure to select the individual to provide the SSDI benefits can take 3-4 months. Before applying online for the program, you should create a "My Social Security Account".
To create an online account, you must answer several questions to verify your identity. So, before opening the portal of the social security disability site, you have to keep the following things in your mind to make it a hassle-free process.
Tax forms
Mobile phone
Credit card
Form W2
What are the Application Requirements?
Individuals who want to apply for the SSDI program must fulfill the applicant's requirements.
Social security number
Birth certificate
Dosages and names of all medicines that you take
Test and lab results, medical records from your health specialists that are already in possession
Hospitalization information, like name, address, phone number, hospitals, doctors, etc
Detail of your work, including where you work or in what position you work
Your most recent tax and wage statement. If you are self-employed, you have to submit a copy of your federal tax returns for the previous year
Who is Eligible?
You must meet the following eligibility criteria to become eligible for the SSDI application.
Do not have a part-time or short-term disability.
If you are unable to work due to a medical condition that is for at least one year or leads to death
Meet the SSA disability
Stay younger than the full retirement age
Once you qualify for disability benefits, your family members may be eligible to get disability benefits based on your work experience.
Eligible members of the family to avail of SSDI benefits
Apart from your work or eligibility criteria, your family should also qualify for SSDI benefits. Here are the criteria that decide your family's eligibility for SSDI
Spouses if they are 62 age or more
Spouses of any age, if they are caring for your child who is disabled or more than 16 year
The unmarried children of more than 18 years, including the adopted child. Sometimes, the grandchild or stepchild for SSDI benefits is also eligible.
Unmarried children of more than age 18 who is disabled before the age of 22 years. This child's disability should meet with eligibility criteria for the disability of adults.
A divorced spouse, if they married to you for a minimum of 10 years, is not married currently and is a minimum of 62 years old.
Benefits
If your SSDI application is approved, you get disability benefits. The amount you claim under the SSDI benefits depends on the type of your disability and past earnings you have.
The higher your earnings are, the higher your benefit amount. In simple words, the benefit amount of the SSDI program for disabled people depends on their past income, when they could work and earn money.
Conclusion
SSDI, Social Security Disability Insurance program, helps a person with a disability, who wants to meet the essential need of their family, but do not able to work
How long does it take to fill out the SSDI application?
A social security representative will take your interview to complete your SSDI application. This interview can take only 1 hour to complete and submit your SSDI application.
How was I approved for SSDI?
You can easily know whether your SSDI application is approved or not by placing a call at 1-800-772-1213.
Can you apply for SSDI if you are still working?
No, you can not apply for SSDI if you are working or able to work. The SSDI program is only available for disabled persons.
How does SSDI determine eligibility?
To become eligible for SSDI benefits, you should work in a job sector covered by social security and have a medical condition that proves your disability.
What to write in remarks in the application form SSDI?
You have to add what you like and what your life is like before you disable in remarks in the SSDI application.
I am the mind behind nammatech.com. I have an experience of more than 8 years in the digital marketing field. The idea behind starting this blog came when one of my friends find it difficult to fill out the application form. So, I came up with an idea to start a blog on this niche.