Flight attendant is one of the most crucial aviation jobs. All airlines hire humble flight attendants who can help passengers during a flight journey. They ensure that passengers traveling on their airlines are securely settled. Additionally, attendants serve food and drinks or any other passenger's requirement. 
Southwest Airlines are hiring flight attendants for the flights. So, you can apply for this job if you are an experienced and well-trained flight attendant.
Let's learn more about the Southwest Flight Attendant application. But first, we'll understand its meaning.
What is the Southwest Flight Attendant application?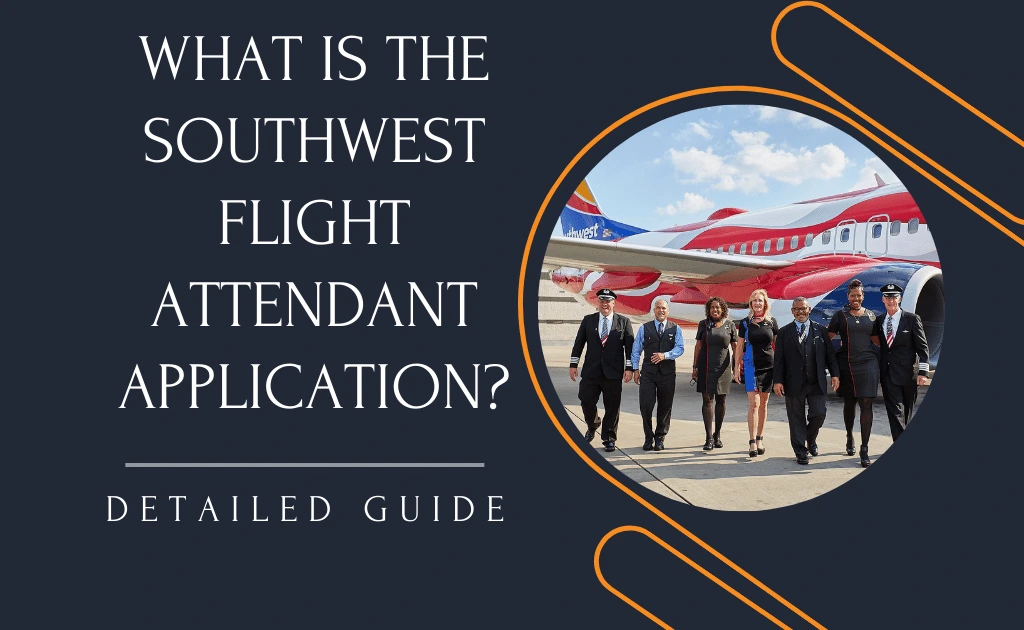 Southwest Airlines are known for providing reliable and affordable flight experience to passengers. Moreover, they have more passengers than other United States airlines. The airline offers several aviation employment opportunities to the people. Presently, the Airline has over 15,000 active flight attendants in 11 domicile states of the US.
Now, you can join Southwest Airlines as a flight attendant. However, you must be eligible for the job and meet all the requirements. You can proceed with the application once you satisfy the prerequisites. Furthermore, aspirants can complete the application online.
So, let's learn whether Southwest is hiring attendants for their Airlines or not.
Is Southwest hiring flight attendants?
Do you aspire to become a flight attendant at Southwest Airlines?
Do you possess hospitality skills, a warm smile, and friendly nature?
Good news for aspirants because Southwest Airlines are now hiring flight attendants. You can prove your worth and associate with the prestigious airline.
The applications are open at Southwest Airlines' official online portal. Furthermore, all the aspirants must head to the website and apply. They are accepting applications till 3:00 PM CT. 
So, join the 15,000 flight attendant family.
As the Southwest Airlines website mentioned, "Flight Attendants are the heart of Southwest Hospitality." Therefore, you must not think twice about applying at Southwest. However, you must be eligible for this position. So, let's glance at this job's eligibility criteria.
Who is Eligible?
Following are the eligibility criteria that all candidates must meet for this position. Your application may get rejected if you apply without satisfying the criteria.
Eligibility for a flight attendant at Southwest Airlines:
Candidate must have an International passport
They must be 20 years old or above
Candidates should not have a criminal record.
An ideal candidate must have a clean background.
Candidates must provide legal identity proof. 
They must have adequate attendant training. 
These are some eligibility criteria that each aspirant for a flight attendant job at Southwest Airlines should meet. You must also check the requirements for the job once you are eligible.
Application Requirements
Southwest Airlines have categorized the requirement criteria into three parts. So, we'll glance at them one by one.
General requirements
An ideal candidate should be 20 years or old during application. Moreover, they must provide identity cards proving their age.
Candidates must produce legal authorization to work in the US according to the Immigration Reform Act 1986.
An international passport is a must. It should be valid and unexpired. Additionally, it should be accurate for at least another year from the time of application.
A perfect flight attendant appearance should be well-groomed. Moreover, it is necessary according to Southwest Airlines' Company Appearance Standards. Finally, you must read the company's guidelines regarding the same.
Education
Candidates must have a high school Diploma and GED. Equivalent education to GED or Diploma will also work.
Candidates should have a college degree or other coursework.
Physical abilities
The height and weight ratio of a flight attendant should be balanced.
An ideal candidate should be able to carry weightlifting work. They must lift 50 pounds from aisle to shoulder.
Physical personality should be well-maintained.
Candidates must be able to walk the flight aisle, face forward, and speak efficiently.
Flight attendant candidates must be well-skilled in knowing the flight's equipment, harness, seatbelt, and other essentials.
You can proceed with the application if you meet all the requirements.
How to apply to be a flight attendant for Southwest Airlines?
The application for a job at Southwest Airlines is conducted online. 
Following is the step-by-step instruction for the application process:
Open 'careers.southwestair.com' when the flight attendant job window hiring is accessible.
Candidates must remember to only apply for open positions. Else, the airline won't consider you for an interview.
Scroll down the website until you find the "Apply for a career by you, for you" section.
Look whether Southwest Airlines is hiring for a Flight Attendant.
Tap on the Flight Attendant option.
Now, the job location will appear on the screen. Check your availability for the same.
Click on the job title, i.e., Flight Attendant.
Proceed to click on "Apply Now."
Upload resume in DOC, DOCX, PDF, TXT, or HTML format. Document size should be 1MB.
Else, provide your primary information, such as country, first & last name, address, state, postal code, country phone code, phone number, and email address.
Click on "Next."
Now, provide information related to your experience.
Finally, submit your application.
Southwest Careers' website ensures candidates either upload their resumes or manually enter their details. You can choose any method for the application. However, correctly enter your details if you are taking a manual approach.
How many hours does a Southwest flight attendant work?
Southwest Airlines flight attendants work 10 to 12 hours a day. Mostly, they have a 3-day trip in a week. Furthermore, they work for one to five flights each day. 
There are no minimum or maximum working hours for a flight attendant at Southwest Airlines. Candidates are flexible and choose working hours according to their comfort.
How to check the Status?
Candidates who have applied to the jobs can check their application status on Southwest's online portal.
Here are the two methods to view the job application status:
First method
Log in to your Southwest account.
Open Southwest Careers account on the dashboard.
Check your application status only if you have applied for the job.
Second method
Candidates receive an email when they apply for the job position at Southwest.
The link is given in the email that takes you to the account's dashboard.
Check the application status.
So, these methods enable users to check their flight attendant job application status. Try any suitable technique.
FAQs
Do you need help getting hired at Southwest Airlines?
Freshers might experience challenges getting hired at Southwest Airlines. However, experienced and well-trained individuals are hired immediately once they pass the interview.
Do Southwest flight attendants get paid during training?
Southwest Airlines pay flight attendants during training. The salary is low, but it increases as individuals develop proficiency.
What is the starting salary for a Southwest flight attendant?
The starting payout is low for Southwest flight attendants. Typically, they make $42,638 per year initially.
Conclusion
The online job application portal for Southwest Airlines is always open, where they hire candidates required for a particular job regularly. So, you must check on the website and apply for a flight attendant job the moment the hiring window opens.
Working with Southwest Airlines is comfortable and beneficial. The attendants get a competitive salary according to their experience. Also, they can opt for flexible shifts. 
So, don't delay with the applications and try your luck with the dream job at Southwest Airlines.